The world of sports betting can be quite a daunting one, especially for those who have little to no experience when it comes down to sports betting. There are dozens of different sports and hundreds and hundreds of markets that you can make use on of on any given day. If you are a newbie when it comes to sports betting, this guide is what you have been looking for. Everything that you need to know about betting on sports can be found right here, so let us get cracking, shall we?
Start with the Right Bookie
With so many different bookies available online nowadays, choosing the correct one is crucial. For every very good bookmaker, there are a handful that are definitely not worth your valuable time. Some bookies will also specialise in particular sports such as horse racing or soccer, while others are more generic and do their best to cover as many bases as possible.
There are many different ways that you can go about finding the best bookmaker for you. The best way is to read review after review to see what your fellow sports bettors are saying about a certain sportsbook. If you are reading reviews and all you are seeing are negative reviews, then it is a good indication that you should steer well clear of the bookie in question. There are plenty of great sportsbooks out there, so you definitely do not need to settle for mediocre.
Another thing that you should do is sign up more than one bookmaker. If you only have an account with one sportsbook, then you have to play with whatever odds they offer. However, if you have an account with two or three bookies, you can compare the odds on offer for a market you want to bet on, and then make your bet with the bookie that is offering the best odds to their customers.
Bonus Offers Consideration
Before you go ahead and open an account with a bookmaker, you should take a good look at the bonuses that are on offer. The sports betting world is one of the most competitive out there, so every bookmaker has to offer an attractive Welcome Bonus to entice new customers to take the plunge and sign up with them.
Bonuses are great as it means that you can place bets on your favorite sports without having to risk any of your own money. When it comes to welcome bonuses, a lot of the time they will be in the shape of a free bet. For example, you might be told that if you deposit at least $10 with a bookmaker, they will give you £30 in the shape of free bets. When you are using a free bet, we recommend that you take more of a risk than you usually would as you really do not have anything to lose.
Learning the Basics
Wetting your feet with a free bet is a fantastic way to introduce yourself to sports betting, but if you really want to be a successful sports bettor over a period of time and not just have a couple of days of euphoria, then learning the basics is a must.
There is no denying the fact that betting on sports involves mathematics just as much as thorough research and gut instincts. Every bet that you place, no matter how easy or hard, involves odds. It is vital that you know how bookies come up with the odds that they offer, how they work, and how to read the different types of odds such as decimal, fractional, and American.
Odds are basically a representation of the probability of your getting a win and knowing how to figure out your potential winnings using the odds that are on offer. Having a basic understanding of how odds work and how you can make sense of them will provide you with the skills to find value bets.
Always Try and Find Value
New sports betting sites keep popping up all of the time and another way that sportsbooks try to stay ahead of their competitors is by offering value odds. This is something that can play into your hands as betting with the best odds all of the time will give you the best chance of making the most profit.
One of the simplest ways that you can make sure that you are always taking advantage of the best odds for a particular event is by having an account with a number of bookies. As we said above, this will allow you to compare and contrast the odds that your sportsbooks are offering and then choose the best ones.
Start Your Sports Betting Experience with Single Bets
We know it might be very tempting to kickstart your sports gambling experience with a big accumulator (also known as a parlay bet) on the weekend's Premier League fixtures, but this is not something that we would recommend. Accumulators are tempting because of how much money you can win from them, but they are complex bets and require experience and skill to pull off.
In our opinion, it is much better strategy to start with single bets as these are easier to get to grips with and easier to place. As you have probably guessed from the name, this type of bet is simple and based on one choice. With a single bet, you will just be betting on whether a team or player will go on to win, lose, or draw the match they are competing in. A single bet is often known as a moneyline bet. Once you have started winning some single bets, you can think about making some accumulators.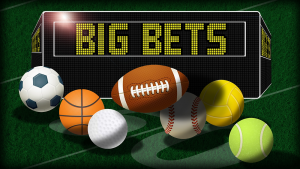 Below we take a quick look at some other bets that are available when betting on sports:
Over/Under: This is where you bet that the number of points or goals scored will be over or under a given figure. For example, when it comes to football, you will usually be able to bet whether there will be over or under 2.5 goals scored. If you go for over, you need at least 3 goals to be scored, while if you go for under, you need fewer than 3 goals to be scored.
Handicap bet: Sometimes a team will be such big favorites to win a match that betting on them is just not worth it.
However, thanks to handicap betting, you can improve their odds. Let us say that you follow the Premier League in England and Manchester City are playing Fulham at home. City originally have odds of 1.30 to win the game because Fulham is the big underdog, but you can give them a handicap of 2.5 goals, meaning that they have to win by 3 goals in order for you to win your bet. By doing this, the odds will improve from 1.30 to something like 1.80 to 2.00. You can also use handicaps on those teams that are underdogs to increase your chances of winning.
In this case, you could give Fulham a 3 goal head start.
Proposition bets: This is a fun type of wager as it is often on something non-standard. For example, in cricket you will be able to bet on which captain will win the coin toss at the start of the game.
Future bets: With this type of sports betting, you are betting on an outcome in the distant future such as the team that will win the league or the number of games a particular team will win in the season.
Do Not Expect to Get Rich Quick
If you believe that sports betting will get you rich overnight, then we are sorry to inform you that you will be really disappointed. Yes, you will be able to make huge profits on particular events, but to do this you need to have sports betting experience. You need to know the different markets and know when you should bet and when you should wait.
Betting on sports is a long game, and this is something that experienced sports bettors are fully aware of. When you first start out, we know that it is really tempting to place as many bets as possible in order to make as much profit as you can, but sports betting is about taking baby steps and slowly building your bankroll. If you try to run before you can walk, you will end up having a bad gambling experience.
Successful sports betting is all about learning, patience, calculation, research, and making use of a hunch that you have.
The Wager is as Important as the Odds
We often get caught up with looking for the best odds for an event that we forget about the stake that we are going to bet. The size of your stake is just as important as the odds that you are using. In fact, when you are working out your potential profits, you need to multiply the odds by the stake you are going to place.
As a new sports bettor, being able to come up with a viable bankroll and not spending it all at once is very important. To make sure you do not blow your bankroll quickly, you need to be wary about how much money you place on each bet. Please do not get into the habit of placing large wagers because the odds are really great. There really is no use trying to win a huge profit, if it means that you are out of the game if it goes on to lose.
Put Your Emotion to One Side
Successful sports bettors are those that are able to control their emotions and bet with discipline and logic. If you go on a losing streak, it is easy to lose control and get frustrated, but you need to control this because betting when annoyed will only lead to you making mistakes that will end up costing you cash.
It is vital that you never chase your losses because doing this will only lead to you losing more money, more often than not. If you are in the middle of a gambling session and you find yourself annoyed, then log out of your account and go for a walk or something to cool yourself down.
Remember That Betting on Sports is Meant to Be Fun
Many new sports bettors make a bet, the bet then goes on to win, and they end up with a nice profit. Success is great, especially when it makes you money, but do not let your success get to your head. Always remember why you started to bet on sports in the first place – to have fun. If you always have fun and learn not to take sports betting so seriously, then you will keep level headed and this is something that is really important when it comes to sports betting.
Sports betting can be complicated, but it can be easy as well. It really boils down to how you approach betting on sports as a novice. While there are some that like to jump in at the deep end, hoping that they know how to swim, others prefer the slow and analytical approach. By the following the above guide, you will give yourself the best chance of being successful and having a great sports gambling experience.
Check out more gambling information on The Gambler
If you are fighting a gambling addiction be sure to seek help